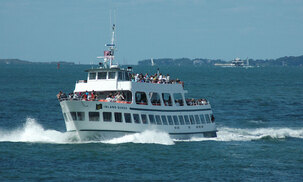 3rd Annual Island Queen Cruise
Wednesday, September 15th, 2021
5:30 - 7:30 PM
Boarding begins at 5:15. Due to limited parking, car pooling is strongly suggested.
Join us for a 2 - Hour Sunset Cruise of Falmouth Harbor including views of
Martha's Vineyard.
A Sandwich Buffet, Appetizers & Assorted Desserts will be served.
Cash Bar ONLY available.
A wonderful opportunity to network and socialize with colleagues and business associates in a casual, relaxed setting.