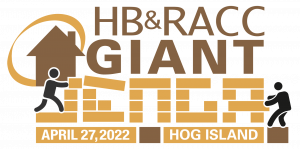 Wednesday, April 27, 2022
5-9:30 PM
Hog Island
Are YOU ready to JENGA? 
HB & RACC is pleased to present our 2nd Annual Giant Jenga Challenge, to be held April 27, 2022, at the famed Hog Island Brewery.
Eight (8) Giant Jenga Towers await 32 (Two (2) Person Teams) - Double Elimination Format.  $125.00 per team, which includes souvenir glass, complimentary drink & refreshments for each player.  Guest tickets available for $35.00, which includes a complimentary drink, souvenir glass and refreshments.
Sponsor Opportunities are available. Contact candice@capecodbuilders.org soon while available.
2022 Giant Jenga Sponsors