NAHB Member Advantage Program
As a benefit of being a NAHB member, you have access to discounts and savings opportunities offered by many top companies. All programs, rates and prices are subject to change without notice.
NAHB members can access each program using the co-branded links below, or download a one-page overview of all discounts including phone numbers and program codes.  When using these programs please identify yourself as a member of the National Association of Home Builders.
Click here to go to the NAHB Member Advantage page 
Member Manufacturer Rebate Program
As a HBRACC member, you are also automatically a member of the Home Builders and Remodelers Association of Massachusetts (HBRAMA).
No one likes to leave money on the table. So, what would you think if you could get a rebate for your loyalty to many of the nation's leading housing industry product suppliers? Well, now you can! HBRAMA's Member Rebate Program helps to increase your bottom line.
National Purchasing Partners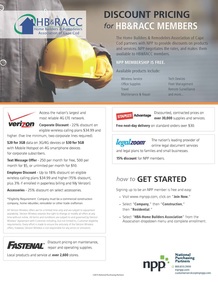 There truly is strength in numbers!
Take advantage of the purchasing power of National Purchasing Partners.
Available products and services include:
Wireless Service
Office Supplies
Travel
Paint, Maintenance & Repair
Tech Devices
Fleet Management
Remote Surveillance
and more...